A Survivor '29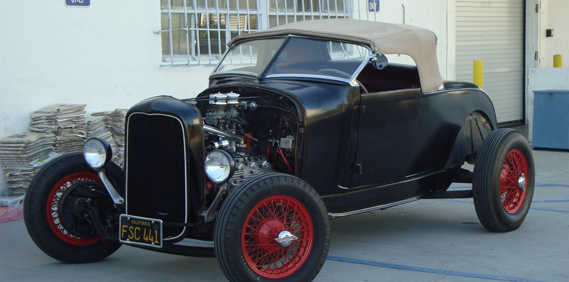 As a reply to last week's thread on survivors, AJ Elias posted a shot of his '29 roadster. I immediately fell in love. It's one of those cars that can obviously be dated to the late 1940's by its details and character. AJ found it on Craig's List and bought it from a neighbor that was removed from the original builder by a few generations. The last owner that is currently known is a man by the name of Bill Bair.
In the past year, AJ has been able to figure the circle of pals that Bill hung out with. All of them are hot rod guys and most of them built and own cars that many of us still know of today. In my opinion, it's a pretty safe bet that this little roadster got its final look from Bill… But who really knows? This is a mystery roadster.
The most striking feature to me is the windshield. AJ seems to think that it was entirely hand made and that's a strong possibility, but I feel like I see the profile of a heavily modified 38/39 windshield surround in there. In any case, it's downright gorgeous. Very rarely do you see a custom windshield on a car that is not labeled as a DuVall or a Hallock that looks right. This one does… and it's marvelous.
And then of course there are the Buffalo wire wheels. Wait. Those aren't Buffalos. Those are vintage Daytons. Very vintage… In fact, as best as AJ can learn, these wheels were made in the 1930's or 40's. The knock-offs are simply wonderful and the adaptors used to run the wheels on early ford drums are genius. Details here.
Anyway, on to the pictures…
For more details on the roadster and AJ's work on it, check out his blog… It rules.
59

Comments on the H.A.M.B.