Day Dreaming…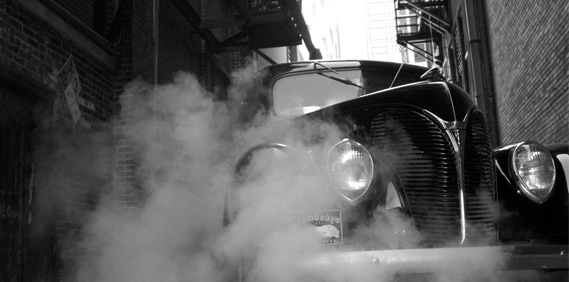 I'd be willing to bet that just about every car guy grew up as a serious day dreamer. I've always felt that it was somehow in our DNA. How else could a 12 year old be so deeply invested in automobiles? And since a 12 year old can't drive, all he can do is dream… Constantly. I certainly did and, embarrassingly, I continue to do so.
Lately, I've been dreaming a lot about my '38 coupe. A bunch of my pals and I got the '38 on the road about 15 years ago. When we first started the car, it was to be a purpose built drag car. Eventually, I decided a street car would be more fun and practical so I committed a cardinal sin and changed directions half way through the project. But, wait… I didn't just want a street car. I wanted a traditional hot rod.
Of course, at the time I had no idea what a "traditional" hot rod really was. I started The Jalopy Journal in an effort to figure that out, but I built the car faster than I learned. As a result, I ended up with a street rod – tilt column, air bags, 4-wheel disc brakes, etc… I've never really felt any regret. The car has lived a life with me for 15 years and has been through more than I can type. When I met my wife, I was covered in black polishing compound left over from spending hours upon hours engine turning the dash insert. I later asked her to marry me while she sat in the passenger seat. And then some years after that, it became the first old car that both my daughter and my son ever road in.
The '38 has also lived an admirable life as a street car. It's been on countless trips all over the country, its ran 12-second quarters at over 115 mph, it's done literally hundreds of stupidly brutal burn outs, it's been in two fender benders, and it has never left me stranded – not a single time. I love that damned car.
Even so, I haven't driven it in over a year. A stupid little issue has kept it in the garage while I enjoy the Tardel/Cochran coupe and the '39 sedan – two flathead cars that are actually much more my style these days. Lately, I've been trying to honestly access the situation. What should I do with this beloved member of my family? Selling it is out of the question. You don't sell family. But, what then??
I think I've come to terms with a facelift. I don't get excited about the '38 these days simply because it's trying to be something that it is not – a traditional hot rod. I could fix that by literally putting the car on a stock '38 frame and starting over, but something is stopping me from doing that. I worked so damned hard on that frame and learned so much and I just don't want to throw that experience away. So I'm stuck with it and, to be frank, it's the root of the issue here and its essence is the very reason that the car has sat for so long.
Mentally, I've been in total disarray trying to figure out what to do. I want the car to be relevant again… Not so much to other people, but to me.
I started thinking about what makes a car talk to me. I've always felt that the best form comes from function and that along with subtlety defines my style. I then started to think about guys in the past that have built to that same formula. The first name that came to my head was the first "old guy" I ever really researched – Doane Spencer. Of course, most know Doane because of the '32 roadster he built and made famous, but he built other cars as well. His early salt inspired Thunderbird and his road course destroying Sunbeam Tiger have always been favorites of mine. They are both pure function that lead to beautiful form.
Doane also had a buddy with a Thunderbird – Bob Hoshiko. Bob sent his car to Valley Custom for some work under the guidance of Doane Spencer. He wanted a car that had the look of Doane's but was mild enough to be driven every day. The car, now owned by Dave Simard, turned out wonderfully.
It's at this point that my mind became at ease. This was the sort of "abstract" direction that my '38 needed. My passion has been and always will be aimed directly at late 1940 and early 1950 era hot rods. That's the period that sings to me. BUT, Doane built cars well into the 1960's and 70's that somehow work with my sensibilities and, somehow, begins to make my '38 feel relevant again.
I dunno fellas. Maybe I'm crazy… But as soon as time and money allows I'm gonna start ripping everything off my '38 that doesn't make sense to me anymore and then, begin to build it back up with one eye on Mr. Doane Spencer. After all, family should always come first – right?
I'm now dreaming about magnesium.
93

Comments on the H.A.M.B.