Im doing this in honor of 40StudeDude and for people who havent seen his
build
PROPER!
The
Coop DeVille
Caddy
build…in several installments. This is Number One
Now that
the
KIRK!! Jones/Gambino Grime '60 Ford paint job is out of
the
way,
I thot I'd place a post about my Caddy…
not near as cool (at this point), but it will be...
A few of you have asked about my CoopDeVille build…and what's taking me so long??? Well, OK, here's
the
project, from
the
beginning, to lighting
the
engine, to taking it around
the
blok.
This
build
started in July, '05, I bought someone else's (unfinished) project. Yeah, I know, I've heard it all before -- "NEVER buy someone else's half-baked project."…but, I've built enuff cars to know what I was getting into, I looked it over well, struck a deal and laid out my cash.
So… instead of "tell," I using that old writer's admonishment: "SHOW, don't tell." Let's go….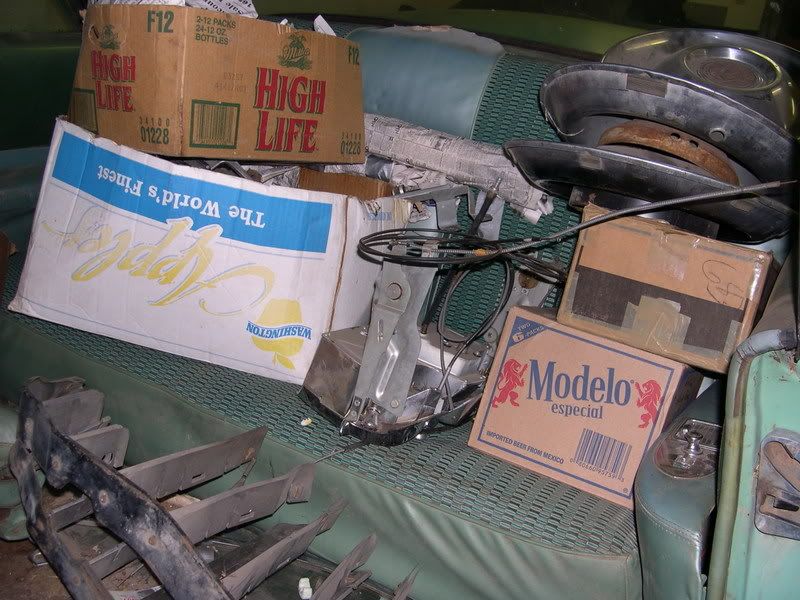 The
Caddy
is a 1955 Coupe DeVille, complete with a 500 incher (used-not overhauled, was told it "had good oil pressure." "Uhmmmmm, OK, I hope you're not shitting me, but I really have no way of knowing." A Turbo 400 tranny was attached to
the
engine and both simply "placed" in
the
engine bay (not bolted down). As part of
the
deal, I got almost enuff parts to
build
two cars …the
Caddy
also has power windows and power seat.
Someone needed to save it…and since we'd "built" my brother a 1954
Caddy
hardtop…and were familiar enuff with them, it fell to me…why not do another? Could be fun.
Now, to put this in a bit of perspective…. As of March 19th, 2008 -- two years, nine months after I brought it home, at 2:50 PM in
the
afternoon,
the
engine was finally fired off and runs well, sounds healthy (AND has great oil pressure…!!!) and
the
tranny works …not bad for an engine, tranny and carb that has been sitting in my garage for well over three years.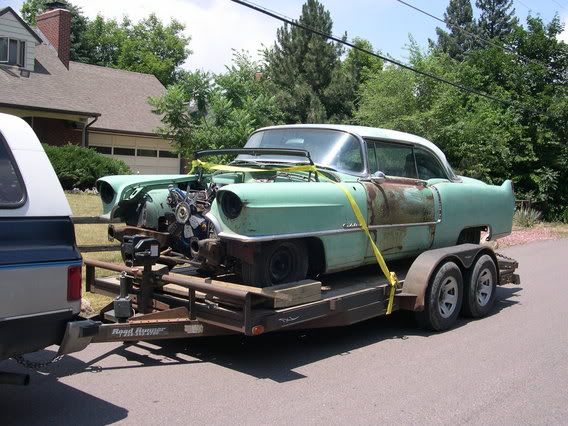 This then, is
the
'saga' of how I built my Cadillac…and WHY it's taken this long. This is simply my way and done in my back yard garage with only my bro, Dan, helping.
First thing is/was, I'd been working on my '48
Caddy
Sedanet…I'd had it blasted and was working on mounting a new non-stock gas tank when this '55 fell into my lap…I took time out from doing that to go take a look at it. And I kinda figured my bro's '54
Caddy
needed a "running mate," …how hard could it be to put this '55 back together…??? We were about to find out…
Well, like anything else…it takes longer than you think…no matter how much you hurry…and hurrying ends up making you do things twice…or even three times until you're satisfied with what you've done…or it's correct.
When we got
the
'55 home and unloaded from
the
trailer, we put
the
'48 into 'sleep mode' for a while, rolled it into safe-keeping in
the
dry shed and put
the
'55 in
the
big garage…then we pulled
the
body off
the
frame…
The
'55
Caddy
is an original ColoRODo car…so, no rust…then we set about scoping out
the
'78 Trans Am sub that was only mig welded, full of burn holes and crappy piled up shit welds that wouldn't hold anything together at 70 mph…!!! It was mounted into
the
original frame at
the
firewall. We pulled
the
engine and tranny out and set it off to
the
side…first things first, ya know…we'll deal with that later. Before we go farther, please don't give me any crap about putting
the
body up on cinder blox…they hold up a two (or more) story building just fine and they stack them higher then I ever will, they'll work for holding up a
Caddy
body. Besides, no one is putting any down force on
the
blocks and
the
body certainly isn't moving around, and, BTW, that body didn't "bend" in
the
middle either, because of no center support. And that was over two years ago…not one of those blocks cracked or broke.
A note here: when you don't have every tool for every job, you make
the
best
with what you've got…it worked.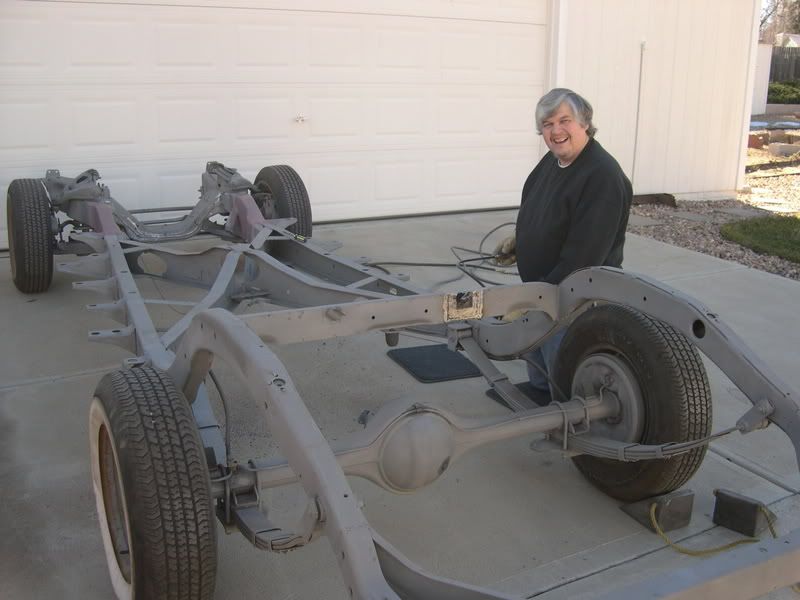 Once
the
engine and tranny was out, I borrowed a trailer again, hauled
the
whole thing up to a sandblaster and let them go at
the
50 year old crud…once back, I cleaned up
the
frame graft, ground off some of
the
crap, mig welded up some spots to add a bit more strength to it and then cut 1/8" plate in order to fish-plate
the
two frames together…and then TIG welded all of it together I might add…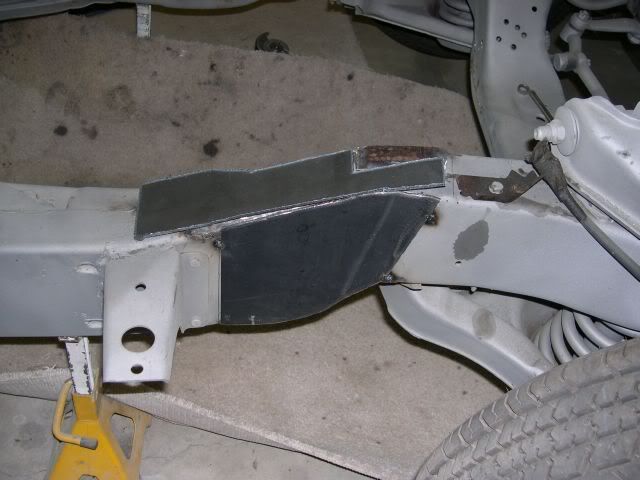 I cleaned it all up nicely and then epoxy sealed it and sprayed it urethane gloss black.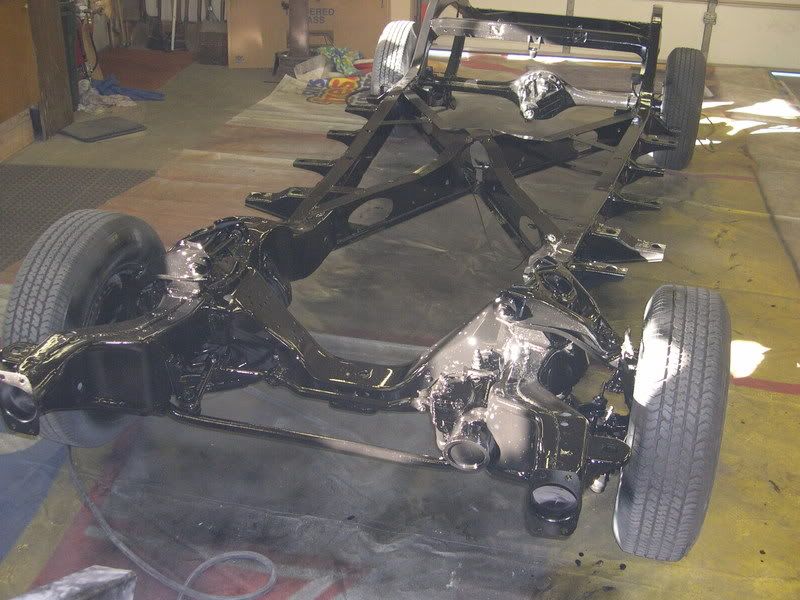 While
the
frame was drying, I decided to do
the
body…
the
bottom of
the
old
Caddy
body was relatively clean (old undercoating already finally falling off after all these years), so, wire brushed that, sanded a bit, sealed it with epoxy and sprayed Lizardskin…(
best
insulation in
the
world…!!!)…once that was done, I painted it all gloss black and proceeded to get ready to set it back on
the
frame.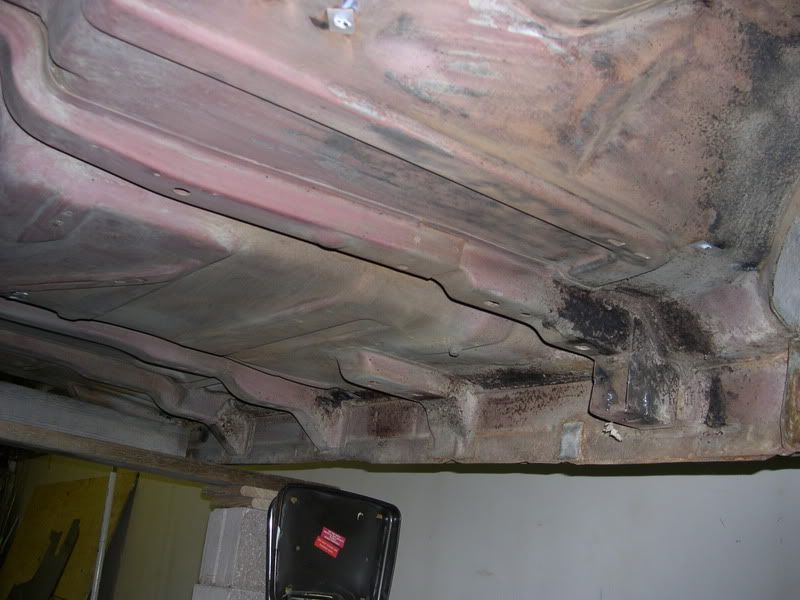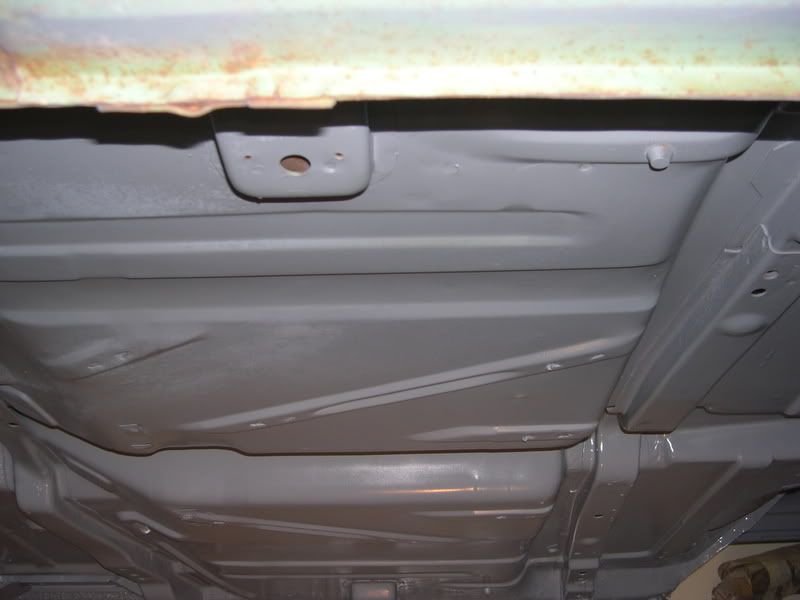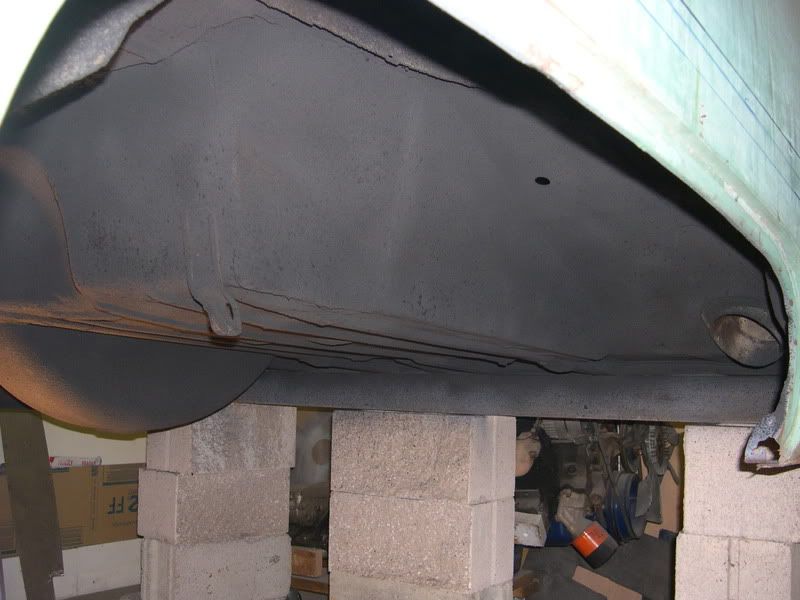 That's it for this installment...More in
the
next installment…