Register now to get rid of these ads!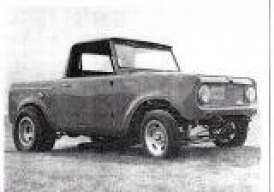 Gender:

Male

Location:

Occupation:

Project Manager
Loading...

Loading...

About

Gender:

Male

Location:

Occupation:

Project Manager

63 Scout Gasser
49 Prefect Altered
53 Willys Wagon (Soon to be gasser style)

Manitoba Gasser Association (Man. Gas.)

Born and bred here in Winnipeg with a brief stint in Calgary in the early 90's. I'm currently a senior project manager for the phone company.

My cousin gave me my first Hot Rod magazine when I was 11 and have been hooked ever since. My first car was a 67 Mustang fastback (302 / auto) Much to my later disappointment, I let that one get away. I then cut my teeth on a couple of v8 Vegas and then went through a bad 4x4 phase with a big 3/4 ton ford and an early Bronco. After a few years I came to my senses and built a hot 62 Nova with a 400 / T350 / 10 bolt w 3.73's. It was resto mod style with widened steel wheels and early Nova dogdish hubcaps. Fully restored black interior was slick.

Just for kicks I've built a barstool racer and a motorized phone booth. Other than car projects I play senior level competitive slo-pitch. I've been fortunate enough to be voted as a 3 time Provincial player of the year and I was inducted into the Manitoba Slo-Pitch National (SPN) hall of fame in 2013, In 2003 I was part of the Senior Softball 40+ World Championship winning squad and voted to the All World Team for the event.

My wife Lori is a woman of infinite patience to put up with me. She is a world class curler, having come within a game of winning the Canadian title back in 1989. The two of us also love to get out golfing as much as we can.

My brother, Paul, runs a trans and diff shop (Pro Gear Performance Drivetrains 204-783-4327) Which is where we build all our projects. We are both heavily involved in his daughter, Megan's racing program. She's a 3 time track champion in Jr Dragster and 2 time Iron Man winner. She currently has her Top Dragster license and has run 7.51 @ 180mph

My current racer is a 63 Scout 80 Gasser it's an ex street racer that used to run a 426 hemi. (See my avatar for how it looked in 73) It currently has a blown 406 sbc and I'm looking for low 10's high 9's. I can't believe the people I've met just because of this truck. It's been awesome. The irony is - this same truck was in that first Hot Rod magazine that got me started. I guess things have come full circle... Funny how things work out... huh

My brother and I have built a 49 Prefect - Altered style - complete with alcohol 358 sbc / zoomies and center steer. It is affectionately known as the "Ugly Beast" but also as the "Fuel Injected Suicide Machine" and "Prefect Storm"

My most recent project baseline is a 53 Willys Wagon which will get the full Gasser-style treatment. It'll have a Dana 60 rear with ladder bars, straight axle up front and a 550+ hp 427 BBC. Call it "Dare to be Different 2", "Ugly Beast 2"... whatever you want. I haven't pick a project name yet.

Interact

Signature

Of all the things I've lost, I miss my mind the most...

7th Annual Meltdown Drags - Byron IL.
July 15, 16, 17 2016 www.meltdowndrags.com

Loading...

Loading...

Loading...
Register now to get rid of these ads!