Posted on February 19th, 2007 by Ryan
Filed under:
Customs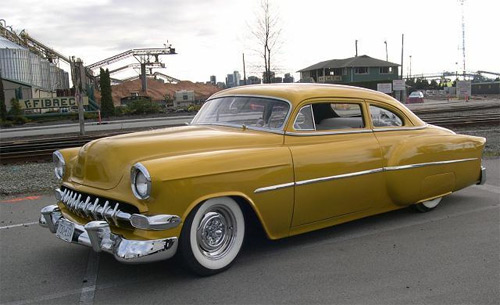 Now this is a mid to late 50′s custom that I can truly dig on. Laurie Peterson of Canada Customs and Hot Rods put it together for "Custom54" over a period of 365 days. Packard tails out back, Olds buckets up front, '56 Chevy front and rear bumpers, rounded hood corners, subtle chop, nice shave (leaving the right bright work alone), great stance…
It's perfect.
A lot of my pals suggest that I only fall for cars that were done with simplicity in mind. This car is a perfect example of why I disagree with them… There are a ton of time eating mods on this Chevy, but the great thing about them is that they don't take away from the car's total picture. Every cut/weld was done for a reason and they all work together to create a car that looks better than factory.