The King Shifter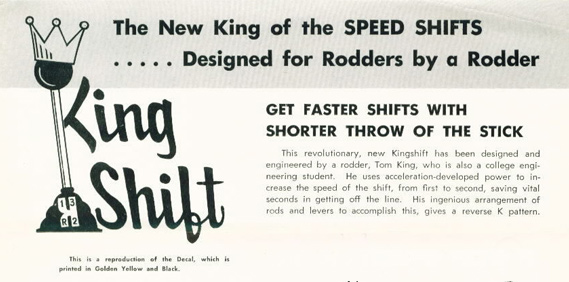 Almost a year ago, I got an email from Tom King. I didn't recognize the name, but I recognized the scans of vintage ads that were attached to the email. See, Tom King was the inventor of the King Shifter and his ads were found all over hot rod publications from the 1950's. I was instantly excited and replied back hoping I could talk Tom into letting me do a little article on him. I never got a reply.
Every month or so, I sent another email to Tom hoping to hear back. I never did… And then last week, Tom found the time to reply. I'm so glad he did.
Tom grew up in Trenton, NJ and was an avid hot rodder in the 1950's. He tells stories that paint a portrait of perfection – innocent, clean, and free of complications. He remembers the little details that makes things seem so much more real… and fascinating. One of his favorite destinations was a home in Abington, PA. It featured a long and slender driveway that rolled downhill towards the back of the property. It ended at a basement garage where machine noises could often be heard. It was the shop of George Hurst… Tom visited often.
On more than a few occasions, Tom and his buddies would flat tow their cars all the way to PA and George would reward them by fabricating their motor mounts and other odds and ends – free of charge. On another occasion, George was feeling especially thankful and gifted Tom some hand made nerf bars for his '33 Ford. It was just hot rodding – not much differently than how some of us still do it today.
This was all before George made and marketed his first shifter. Ironically and at around the same time, Tom King was working on a shifter of his own to be mass produced as well. Here's Tom in his own words:
George was charging $34.95 for his 3 speed shifters and I was charging $54.95 for mine and I could not make mine fast enough because I was doing the assembly by myself along with my sister, mother and father.  $20 was a BIG didfference back in the late 50's. All the guys running stock class were always protested for people believing that they had a 4 speed trans in their car. We had our own machine shop and foundry and made everything ourselves, except the plastic shift knobs, bolts and rubber boots.  I charged $20 more because my shifter levers were hand machined on a Bridgeport milling machine and then they were heat treated and Cadmium plated.  My rods were 3/8 diameter and my brackets were 1/4 steel and welded.  My shifters were the strongest available and all George's parts were punched out on big presses, so his tolerances were not as close as mine were and his parts were not heat treated. My friends that had the 37 LaSalle trans in their car pulled them out and put a Cadillac side shifter trans in with one of my "KingShift" shifter units. The 37 Box could not be flat shifted but the 38-54 Cadillac Trans with a "KingShift" could be flat shifted. The only change to the Cadillac side shift trans that I made was to replace the bronze 2nd & 3rd shift button with a steel button and put shift stops on cars used strictly for Drag Racing. Also with the drag cars that started out in second and were only shifting into third, I took the syncro apart and only used the center slide part. What a big difference that made. What were the Cadillac Engineers thinking?
After a feature in the June, 1962 issue of Hot Rod Magazine, Tom saw his sales sky rocket. It wasn't long before he and his family had orders for over 800 units. Demand continued to rise as word spread and even Ford jumped aboard for a short time. Negotiations with the motor company failed and Tom decided it was high time to head to college. His shifter profits paved the way… A few years later and Tom found himself with a respectable degree that would be the catalyst to one of the most interesting lives that any of us could ever imagine (see comments to this post for details).
Of course, George Hurst stuck with his shifter and we all know the results. It's a gentle reminder of destiny – things happen for good reason and life always seems to have a way of working out for those willing to invest in it. It's beautiful.
A Sidebar Of Sorts:
While rapping with Tom about his shifter exploits, he mentioned that he still owned the '33 Ford with the George Hurst built nerf bars. He traded his a-coupe (plus $150) for it in 1955. His buddy, Glenn Severs, helped him build up the 365-inch Olds motor and Tom himself was responsible for the '37 LaSalle tranny behind it – controlled of course by a King Shifter. In 1965, Tom moved to Mount Airy, NJ and the coupe went into storage until quite recently. He's working hard presently to get it back together and road worthy… It's a real beaut too.
Ohhh.. and by the way, Tom has another project in the works as well. Soon, you will be able to buy the King Shifter again.
25

Comments on the H.A.M.B.