Tom Cobbs: Part 1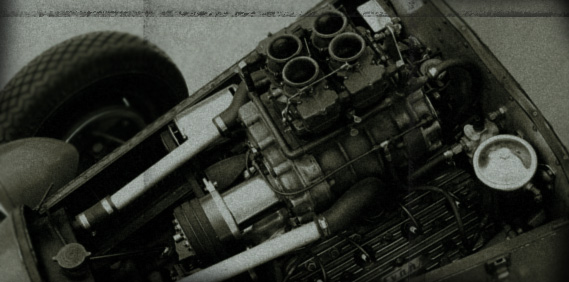 Here's an old hot rod name for you – Tom Cobbs. It's not a household name by any means. In fact, you can read both "The Birth of Hot Rodding" and "Dry Lakes & Dragstrips" (two of the best historical studies on early Hot Rodding) from cover to cover and not find his name in a single paragraph or caption. However the more you know about Cobbs, the more his absence from mainstream hot rod history begins to baffle.
In 1951, coupes were the latest rage at Bonneville. The success of the Pierson brother's coupe a year earlier caught the attention of a lot of guys. One of those was Alex Xydias. He noticed Jim Gray and Russell Lanthorne's heavily hammered '34 copy-cat coupe on the salt and quickly made an offer the two couldn't refuse. Alex figured the car would make a great platform to market his So-Cal Speed Shop at both Bonneville and the drags.
More than likely, you've seen this coupe with a very heavy chop similar to the Pierson Brother's '34. However, Xydias and pals first ran the car with a less aggressive chop as seen here.
Busy running the growing speed shop, Alex let the coupe sit in his garage for months without so much as touching it. And then, as luck would have it, his pals Buddy Fox and Tom Cobbs came a callin'. They needed a serious car to test their serious motor with. Alex agreed to lend over the coupe so long as the two painted the car in So-Cal colors, ran Cobbs's coveted number 1 (from winning the points race a year earlier), and didn't tear anything up.
Oh and that motor? Fox and Cobbs had built a 258-inch Merc flathead that spun a crank mounted 4-71 blower. See, Tom Cobbs was a blower freak, innovator, and specialist. Roots huffers were his deal… And if you are a historical hot rod guy, you know the rest of this sidebar. In 1953, the "So-Cal Coupe" demolished the class "C" Bonneville record with a 172.749 mph run.
But Tom wasn't done with coupes. In fact, a few years later he would be involved in yet another legendary Bonneville hard top. After the Pierson brother's made all of that noise earlier in the decade, the hammered coupe changed owners a few different times. By 1956, Cobbs had his hands on the legend and installed a hot little small block Chevy running, you guessed it – a crank driven 4-71. Another trip to Bonneville yielded yet another record broken. This time, Cobbs ran 198.86 mph.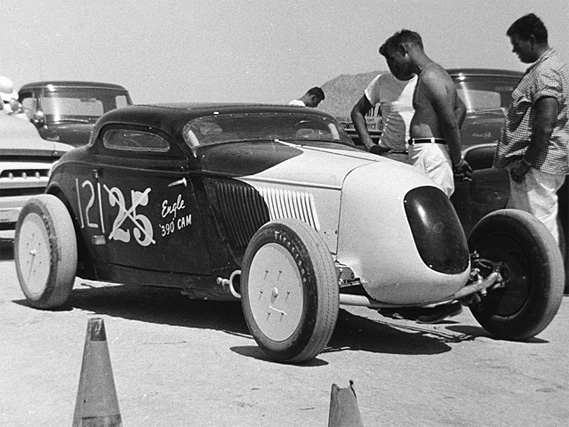 The Pierson Brother's coupe in 1956 when owned by our hero - Tom Cobbs.
So recap… In three years, Cobbs was heavy handed in two of the most historically significant coupes of all time and set records in each. An impressive legacy for sure, but we aren't quite finished yet. Let's step back a few years to April 10, 1949. On that day, Tom Cobbs was involved in the first ever legal drag race at the Santa Barbara Municipal Airport.
It started like many grudge matches do today. Fran Hernandez was piloting his '32 Ford to win after win on the street and record after record on the salt. With financial and intellectual backing from Vic Edelbrock, Fran's hot rod was widely known as the quickest ride in the L.A. area. Vic and Fran were the fellas to beat and this reputation didn't fall on deaf ears.
It wasn't long before the Edelbrock clan started hearing chatter about Tom Cobbs and his '29 roadster. The open car featured something unheard of at the time, a blown flathead Ford, and was rumored to be running as hot as Fran's coupe. The trash talking went on for a couple of months before a serious challenge was made.
That's the Tom Cobbs roadster on the right. Don't let the distinctive and removable hard top fool you. Picture from the Bob Roddick collection.
Fran actually ran Tom in his '32 coupe. However, I've never been able to find a single image of that car... So in its place is a shot of Fran's roadster that he ran at Bonneville in the late 40's and early 50's. Picture from the Bob Roddick collection.
After some cajoling, the folks that run the Santa Barbara airport agreed to allow one of their service roads to be used as a drag strip on Sundays. The first Sunday would be April 10, 1949. The headliner would bring folks from all over southern California – Tom Cobbs and Fran Hernandez were going to race.
Each camp had tricks up their sleeves. Cobbs, of course, had his mysterious 3-71 blower adapted from a GMC. More so, he anticipated the importance of gearing on such a short track. He removed the tall cogs that he normally spun on the salt in favor of some shorter gears. With a perfect tune and the efficient gear set, Tom figured he had it in the bag.
Fran had his own secrets. Vic Edelbrock had been spending some time at the local tether car track and noticed the performance that the mite sized cars were getting from an exotic fuel – nitro methane. Vic took action and together with Fran, they set the Strombergs up to run nitro. Nose hairs be damned, this car was going to haul ass.
The race was set. The cars were on the line. The flagman jumped and did his thing. Fran's Ford smelled funny and hooked hard. Meanwhile, Cobbs's gearing selection backfired as his tires fought for traction and finally relented in smoky agony. By the time the little '29 had regained its composure, it was too late. The blown flathead fought hard and gained on Fran's nitro burner, but ran out of track on the big end.
With no hesitation and without saying much of anything, Fran and Vic immediately loaded their Ford on the trailer and pulled away. Leaving everyone at the world's first drag race wondering exactly what it was they had just witnessed… And just exactly what that funny smell was…
The rest, as they say, is history. Drag racing gained momentum and became infinitely more popular than land speed racing, nitro became the fuel of choice for "go fast" freaks, and roots style blowers became a staple in just about every form of racing in America. Tom Cobbs became just another name that pushed it all along.
But whatever became of Tom Cobbs and where in the hell is that history making roadster now? Stay tuned as next week you'll get the answers along with a surprise or two.
……..
49

Comments on the H.A.M.B.