Remembering Mike Alexander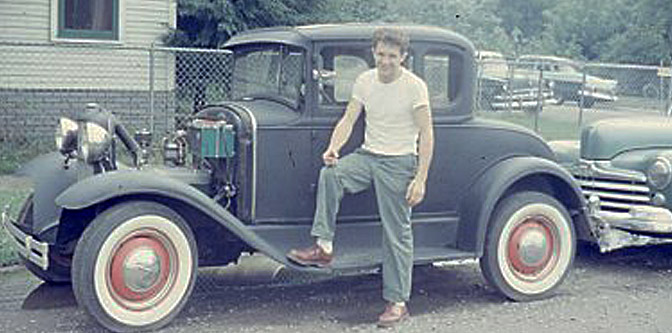 I first met Mike Alexander on a grey, midwinters morning. The fog hung low, and I squinted to find his house tucked away in a Grosse Ile suburb. As my truck idled, I took a moment to collect my belongings — as well as my thoughts.
With a camera, recorder, pens and reference materials in tote, I strolled across the street to his front door. My heartbeat quickened with each step.
This is it, I thought as the rain misted down. From racing a small-scale Deora across kitchen floors growing up to building A-Bros.-inspired model kits, Mike and Larry played a significant role in my earliest customizing memories.
And now my boots were on Mike's welcome mat.
A moment after ringing the bell, he appeared on the other side of the glass and swung the door open. He greeted me in a soft — yet enthusiastic — voice and directed me towards his basement workshop.
The next couple of hours were supposed to be filled with an interview. They weren't.
Instead Mike and I rolled up two leather office chairs at his big wooden desk and started to talk. We talked about his beginnings at Wolverine Trade and his green-lacquer Model 'A.' We talked about his struggles with shops and early magazine features. He shared stories of long hours and overcoming engineering obstacles.
I learned of the fame — but not fortune — of the Alexander Brothers.
As we nibbled on cookies and sipped on our drinks, he opened my eyes to the golden age of customizing. Dirt floors, outside spray booths and show stopping machines were all part of the Detroit-based the equation.
My time with Mike wasn't spent solely discussing cars. He and I talked family, friendship and the importance of working hard to create something clean and simple — a mantra that I've kept close to my heart.
It was late by the time things came to a close. Prior to leaving, Mike gave me a lapel pin of the Alexander Bros. crest with a smile and a handshake. I treasure it to this day.
***
Several weeks passed before I made my way back to Mike's place in Grosse Ile. The second visit was much like the first, filled with a flood of memories.
The location was the same, but this time we ate ham sandwiches instead of cookies. (He said I was still growing and probably hungry, so he drove to the store to pick up two for me.)
In conjunction to our second conversation, we sifted through hundreds of files dating back to his first customizing jobs.
I (carefully) handled everything from never-before-seen shots of the Deora under construction to the original Beach Boys/July 1961 Hot Rod glamor shots of the late Chili Catallo's Sliver Sapphire. As a journalist and as a hot rodder, the whole scene seemed surreal.
Per usual, I finished the afternoon with the question, "Is there anything else you'd like to add?"
Rather than recapping Riddlers or past successes, Mike said he wanted to include how proud he was of his family.
***
Mr. Mike Alexander passed away on July 18, 2014. He was 80.
I'm pinning the A-Bros. crest to my lapel as I continue my drive towards simplicity — in remembrance of Mike and Larry Alexander.
-Joey Ukrop 
26

Comments on the H.A.M.B.