Posted on June 13th, 2006 by Ryan
Filed under:
Customs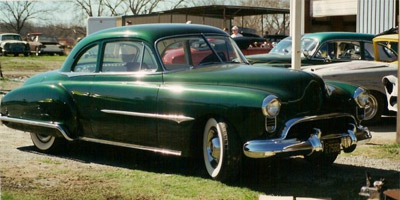 A group of us piled into my '65 Buick Riviera to get a bite to eat after a long day at the fairgrounds in Wichita, KS. Mexican food was the answer, so we headed for a little dive on the north side of town. As we thumbed through the menu and drank our margaritas, I noticed Frank was twitching a little bit. He looked at me and asked, "What the hell is a burrito?"
Frank Palmer is a modern day custom hero living somewhere near Dallas, but was bred in the North East. While he doesn't know shit about mexican food, he knows just about everything there is to know about traditional customs. Exhibit A has to be his old personal car – a perfectly built and mild little Olds. It leaps from the little pages by way of a traditional custom stance (not slammed), shaved body, close to stock colors, tuck and roll interior, quarter hugging exhaust, and all of the little things that tell a story of some kind. This car could have easily been built by a sharp kid coming out of high school in the mid 50′s. It's perfect.
Of course, this Olds is just one of the many traditional customs to come out of Frank's shop. As he works away quietly in North Texas, he builds a legacy as one of the modern era's most thoughtful custom builders to those in the know.
Click here to see some more examples… Would love to see others as I know some of his best haven't shown up online yet.