Way-Out Willys, Part 1
There's a fine line between ugly and unique—and the 1936 Willys has a foot planted on each side of the tracks. More often than not, racers threw on a one piece fiberglass tilt front end molded in the shape of the aesthetically pleasing 1933 Model 77 and called it a day. But this wasn't the case for Pete Doroshevich.
Pete embraced the oddity of his 1936 Willys sedan by retaining the stock front clip and original brightwork. Thanks to the Algon injected 6-71 Chrysler early Hemi and show quality fit and finish, the orange lacquered sedan found its way onto the June 1965 cover of Popular Hot Rodding. After Pete's friend and fellow member of the Progress Unlimited car club Tom Warner (TomWar) mentioned the car on the H.A.M.B., I shot him an email to find out more…
"That's the only picture I have of the Willys [the PHR cover]. A few years ago Pete told me the car still exists, and is up around Placerville Calif. We found the car in a wrecking yard north of Sacramento, and bought it for $100.00. My mother wrecked her '55 Chrysler about that time, so that provided an engine. That picture was taken at the 1965 Oakland Roadster show, and put on the cover of Popular Hot Rodding Magazine. We didn't know about it until the magazine came out."
Tom then suggested that I write to Pete to fill in more details about the Willys. And that's exactly what I did. I'll be following up with more information as it makes its way through. For now, take a moment to scrutinize the Willys design department's judgement when they first sketched that homely front end.
-Joey Ukrop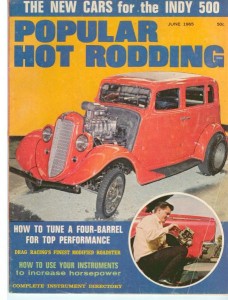 11

Comments on the H.A.M.B.