The Greatest Spectacle In Racing
Wilbur Shaw won the 1940 Indianapolis 500 in his brand spanking new Maserati 8CM labeled the "Boyle Special". And since he won the race in 1939 as well, he became the first driver to drink the milk two years in a row. It was also a rare success for a European entry as it wouldn't be until the early 60's that European manufacturers got heavily involved with their Indy aspirations. Of course, that invasion never would have happened if it were not for Mr. Shaw.
You see, Wilbur saved the Indy 500. During WWII, he was hired by Firestone to do some tire testing at the Indianapolis Motor Speedway. When he arrived, the gates were locked and the track had disintegrated to a point that it was hardly noticeable. When the Firestone reps finally arrived to let him in, he was told that Eddie Rickenbacker (the former WWI ace and then owner of the track) was planning on selling the speedway to a developer who, in turn, planned on tearing the venue down and constructing a housing subdivision.
During a meeting after the tire test, Rickenbacker told Shaw that he would give him a couple of weeks to find a buyer to match the developer's offer. Shaw pulled every string he had and ended up at the door of Anton "Tony" Hulman Jr. – the richest man in Indiana and owner of the Hulman & Company grocery chain. After some smooth talking by Shaw, Tony agreed to purchase the track for $750,000. The track was saved.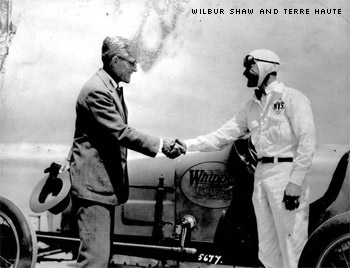 As a result of his efforts to revive the speedway, Shaw was named president and given complete day-to-day control of the track. It was during the period of his presidency (1945-1954) that the Indy 500 enjoyed its golden era and built legacy that we all know today.
HERO.
Fun Links:
Vintage Amateur Photos of the 1940 Indy 500
Race Winners from 1940 to 1949
The Speedway on Shaw