The So-Cal Streamliner… Reborn…
It actually started with a belly tank. More specifically, it started with the So-Cal belly tank that was last ran by Xydias and Batchelor in 1948. Itching for more speed, Xydias and Batchelor decided it was time to get seriously innovative. It was time to build an honest to goodness streamliner – the purest form of speed imagined. They started by teaming with Valley Custom.
See, Dean Batchelor worked at Valley Custom and he well knew the capabilities of Niel Emory and his brother and law, Clayton Jensen. They were tapped to build the streamliner body that was destined to go on the former belly tank chassis. It was a combination that would see both success and failure.
At the first Bonneville Nationals in 1949, the car flat out flew. With Batchelor driving, the streamliner ran the fastest speed of the meet at 187.89 mph and set two class records: the 'A' class streamliner at 156.39 mph and the 'C' class at 189.745 mph. Their success continued throughout 1949 and the team picked up a 2nd place award in the SCTA points championship. Rarely do inaugural outings go so well.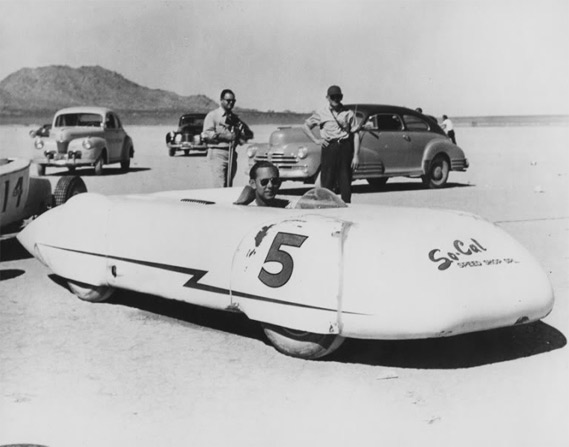 The Battle Scarred So-Cal Streamliner ready for speed.
The year of 1950 would bring a change in luck. In May, Batchelor was on a return run when a persistent cross wind subsided. Dean tried to reverse his correction, but it was too late. The car skidded across the salt and eventually rolled, landing on all fours. During the ordeal, Dean knocked his head on the steering wheel and was rendered unconscious. The terrifying ride would never leave Dean's imagination and, as a result, he would never race again.
The car, however, was salvageable and destined to run at the 1950 Bonneville Nationals. And, yet again, the So-Cal streamliner set the pace with records in both the 'A' and 'C' classes. Further, their 210.89 mph one-way speed was the fastest speed of the meet.
In February of 1951, Xydias and Batchelor decided to take the streamliner east and head for Daytona. The Daytona Beach Speed Trials were known to be murderous and this year was no different. Bill Dailey would be the driver. The results would be disastrous and final. The streamliner was lost to the world after rolling over hard.
The brutal end... Daytona Beach claimed yet another speed machine.
Or would it?
You probably recognize the name of Dan Webb. He's the man that recreated the Phil Remington lakes modified and moved mountains to create a modern take on the Golden Submarine – both have been pictured all over the place. For quite a while now, he's also been hard at work recreating the So-Cal Streamliner.
Aiming at authenticity, Dan started with a model 'T' frame and then narrowed both a model 'A' axle and '32 axle tubes to get the right track width. The steering box is a rotated '32 unit and, of course, a Halibrand quickie handles the gears. Mike Herman at H&H then got busy building a healthy 59A featuring a Kong Ignition as well as Edelbrock heads and intake. Interestingly (cuz I always wondered), the "tranny" is actually a bell housing cut from an original Ford 3-speed case and modified to accept a drive-line coupler. "Simplicity," as they say, "is the route of elegance."
Of course, it's the body that drives this project. It was completely hand formed out of 3003H14 aluminum by a man with a sickening amount of talent – Craig Naff. The famous lettering was re-created by my once enemy and now buddy, Josh Shaw.
The end result is a car that was built with pieces of a period, but with the evolution of talent and tools that comes over half-a-decade. It's breathtakingly beautiful. And its not hard to conclude that this car is more than likely built to a standard that quickly surpasses that of the original. The body work is flawless, the craftsmanship is out of this world, the welds are stacked to perfection, the hardware is clocked carefully, and so on… Race cars weren't perfect. This car is… and yet, somehow, it is how should be.
I often see historical race cars restored to the point that they become sterile – void of the emotion and passion they once carried. The scars of a race car are tangible reminders of speed and living. When you remove them, you are left with a show car that merely hints at what was before it. I still very much appreciate the outcome, thought, and effort, but I always long for more. I wonder where the scars and imperfections were and what caused them. I leave slightly disappointed.
This car is different. First and most obvious, it's a recreation and not a restoration. Adding a real race car personality would almost become an act of fraud. Conversely, this car is more of a homage to what once was. It was painstakingly built to honor two men that have earned the utmost of respect – Dean Batchelor and Alex Xydias. And that, my friends, is the point… I'm sure Dean would be proud and I know that Alex is.
The car debuts next week at SEMA. I'll be there and will be sure to report back. Until then, enjoy the photos fellas:
Chassis by Dan Webb:
Modified Model T Frame
Narrowed Model A front Axle and suspension
Narrowed 1932 Ford Rear Axle with Halibrand V8 quick- change center section
1932 Ford Steering box rotated 90 degrees
.
Engine by Mike Herman of H&H Flatheads:
59A Block, Ported and Relieved
Merc Crank
Full Race Cam
Kong Ignition
Edelbrock Cylinder Heads and Intake Manifold
Stromberg 97 Carburetors
.
Transmission:
Bellhousing cut off from original 3 speed Ford transmission, and modified to accept custom drive line coupler
.
Wheels & Tires:
Front Wheels – 1940 Ford 16×4" Steel Wheel
Rear Wheels – Ford high clearance "Milk Truck" 18×4" Steel Wheel
Front Tires – Firestone Deluxe Champion Ribbed 5.00-16
Rear Tires – Firestone Indy – 8.00-18
.
Interior:
Stewart Warner Winged Gauges
B26 Bomber Yoke for steering wheel
Bomber Seat Pan
Leather head rest by Sid Chavers
Timing Tag from original race car
Braided cloth wiring and cable lacing by Cory Taulbert
.
Body by Craig Naff:
Hand-formed 3003H14 Aluminum body
.
Paint:
DuPont Paint Products
Paint by Charlie Vickery
Lettering by Josh Shaw
.
Special Thanks to:
Coker Tire
Dake Tool
Detroit Eaton Spring
DuPont Paint Products
H&H Flathead
Lincoln Electric
Tracy Aitken
Josh Shaw
Alex Xydias
Ashley Webb
Charlie Vickery
Cory Taulbert
Craig Naff
Gary Schroeder
Mike Eaton
Mike Herman
Sid Chavers
Tony Thacker
……………………..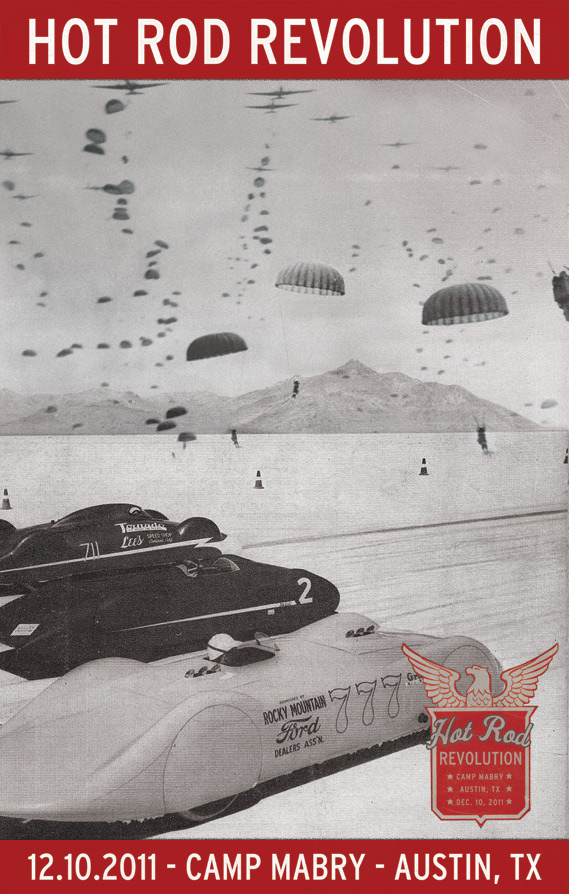 59

Comments on the H.A.M.B.