Finding the Road Rebels…
One of my closest pals and seemingly constant partner in crime is Kevin Silva. Silva is known around these parts as a meticulous machinist as well as a brilliant mechanic. He and his wife (Jillian) are also the proprietors of a small business specializing in the reproduction of vintage style sportswear. They've been at it for a couple of years now and have quickly garnered a reputation for detail and quality. In fact, when a few of you button up your favorite Jalopy Journal work shirt, you are slapping their work on your back.
In any case, Silva recently took on an interesting project for a young lady wanting to reproduce a car club jacket once adorned by her father. It's one of those stories that just kind of develops on it's own and becomes something special. Rather than telling it in my own words, I thought it would be cool to hear it from Doreen herself… Enjoy:
I have two badly worn black and white photographs that I treasure. One portrays a young man probably no more than 16 sitting on the edge of his bed proudly holding up a jacket of the car club he formed in Medford, Massachusetts in the mid 50's. The second is of 4 guys all decked out in those same jackets sitting on the hoods of their rides, as cool as can be. The club was called the Road Rebel's and the young man holding up the jacket in the photo was my late father, Paul Grasso. Paul was known to some of his fellow neighborhood buddies as the guy you had to hang around with if you wanted to learn how to soup up your car and turn it into a hot rod. I was told he was an expert in all things automotive, a sort of "local hero" of the hot rod scene in his town and at Medford High Vocational School.
I was so enthralled with those two photo s that it made me want to find out everything I could about those Road Rebel's. Who were they? What happened to the club? Where are they now? Oh and what about those awesome jackets? I needed to find one!
As a budding hot rod enthusiast I was inspired by the book Cool Cars and Square Roll Bars by Bernie Shuman. The book tells the tale of many New England based car clubs of the era but sadly, it did not mention the Road Rebel's. As a result, I became even more determined to find out The Road Rebel's club history, track down memorabilia and locate former club members. I started with the names of 3 guys (besides my father's) and now 3 years later I have identified more than 20 members. I have been in contact with almost half of them. Listening to their stories has been priceless and I must admit, bittersweet.
The Road Rebel's started with Paul and 8 of his friends (including one girl) from the Medford Heights area and meetings were first held in the Grasso garage on Cedar Road. Another group of hot rodders from West Medford, led by Ben Caci and Joe D'Amico, broke away from a club called "The Lancers" and the two groups decided to form as one. The Road Rebel's name remained, the club officially registered with the NHRA and Ben Caci became president. Because Paul was the club car driver and the one who had the automotive expertise, the club car (A channeled 31 Model A with a flat head) was kept and worked on in his garage.
The club still met at Grasso's house and some meetings were held at the Caci household until the group rented a barn in Wilmington, where official club meetings were held. Ben, as president, told me that he was "the rule enforcer" and that one of the club rules was "No Swearing". Members were fined for each infraction. Apparently, according to Ben, my father still owes the club $.75 cents. "Rebellette" Diane Romanoff (who was one of the original eight) said she remembers that after club meetings the guys would hop in their souped up cars and race down "Roller Coaster Road" which is now called the Middlesex Turnpike in Burlington. She said "All I remember is sitting in the back of someone's convertible with all the green of the trees just passing by like a blur because we were going so fast." The club used to race the Model A at Sanford, Maine and even won a few trophies in the B/Altered class.
I don't have an official record of what happened to the club or how it disbanded. Some of the members went into the service, got married, or went to college. My father, the kid holding up the club jacket in the picture, was tragically killed in a drag racing accident at the young age of 25. After that, the club seemed to just fade away.
I feel extremely fortunate that I have been able to meet and talk to the people who were part of my father's teenage years but I have not had as much success tracking down club memorabilia. The pit passes, club cards, plaques, photos and those incredible jackets have all but disappeared. The only thing my father's family had remaining were a few photographs. Most of the club members have nothing left but their respective memories of the good old days and…no one can remember what happened to his jacket or plaque. Through the grapevine I heard that a Road Rebel's Medford jacket had been spotted at the monthly swap meet in Amherst N.H. last summer but so far I have had no luck, even on the H.A.M.B., in tracking it down.
I wasn't going to let that deter me though! When my boyfriend asked me what I wanted for Christmas, I told him: "A Road Rebel's jacket" I don't think he'd ever gotten a request like that before! "Hey," I said, "I figure, if I can't find an original jacket . . . Why not have one made? How hard can that be? "
Well, as I soon discovered, there are not many people out there who make custom chain stitch car club jackets like they did back in the '50's when you could easily order one from your local sporting goods store. Frustrated with my search, I asked the advice of fellow H.A.M.Ber Dennis O'Brien of O'Brien Truckers who had already made a reproduction Road Rebel's plaque for me. He sent me a link from the H.A.M.B. to Silva Sportswear out of Texas. I sent an initial inquiry email with the two black and white pictures, told them what I knew about the jacket and asked whether or not they could make one similar for me. Owners Kevin and Jillian Silva were extremely helpful; I could not have found better people to work with. Every step of the way and every question I had about the jacket during its pre-production Jillian answered promptly and professionally. I felt like I had commissioned a work of art and in reality, I had.
The pictures are nothing compared to what the jacket looks and feels like in person and in living color. It's so authentic, one can almost hear the roar of those engines revving up in front of the flagman on the drag strip. One of the former club members, Pete Thompson, had this to say about it: "You really hit it out of the ball park! It's nostalgia at its best. It gives me goose bumps just looking at it!" The deep purple Melton wool, double white leather shoulder inserts, the chain stitching and art work on the back all display incredible workmanship and attention to detail. I will treasure this jacket forever and can't wait to show it off at my local cruise nights and nostalgia drags. I'm hoping my jacket will inspire a few of the other former club members to have jackets made too, then all we'd need is a flathead powered, channeled, 31 Model A and The Road Rebel's would be back in business! O.k. , I know maybe that's a little bit of a stretch but I can't help being nostalgic. After all, being a nostalgia buff got me to this point in the first place. I can't help but think my dad, that kid in the black and white picture, would be proud.
Doreen McBride (Thelost40)
Special Thanks to:
– Silva Sportswear for the killer work.
– Josh Elzey of Twig Photography for the camera work.
– Richie Willet of Willet Coach Works for use of the roadster…
…………………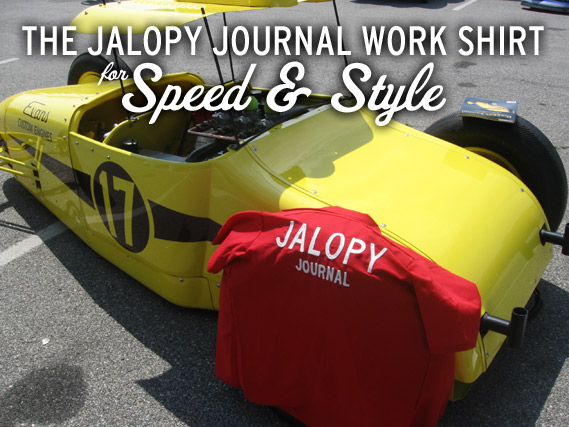 117

Comments on the H.A.M.B.